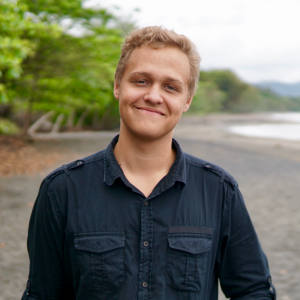 Hi there! I'm Sebastian, a first year studying Philosophy, Politics and Economics and an international student from Munich, Germany. This year, I have the privilege to be representing the body of Undergraduate International Students at Corpus.
Coming to live in a new country can be a bit of a daunting experience. Your everyday life will be fundamentally different to what you are used to at home. Many of you will, for the first time ever, need to speak a language that is not your mother-tongue for prolonged periods of time, and at a fairly high level; there are different customs, different foods, different social norms to get acquainted with. Some people, especially from the Asian community, will even adopt a new name, due to pronunciational difficulties.
My message to you: Don't worry too much! You will be absolutely fine. More than that, I can assure you that you will have an absolutely amazing time here! Oxford is one of the most strikingly beautiful cities in the World, and Corpus Christi College is, even by the high standards of Oxford colleges, especially friendly and supportive.
In my role as the JCR International Students Rep, I will be helping new students from abroad settle in and answer their questions. Feel free to contact me about anything regarding life in the UK/at Oxford, whether it is getting a UK phone number or bank account, finding your way around or dealing with homesickness. I'm more than happy to answer your questions or just chat anytime you need.
During term, for international students of all years, I organise different events aimed specifically at them. Whether during a special international meal or during a tour of the Oxford college bars, you will get to know many fellow friends from all over the world with similar experiences. Please feel free to join these events regularly, they are really quite good fun.
Additionally, my role aims to promote access for international students. We encourage as many people from abroad as possible to apply to Oxford and Corpus by giving talks at our former schools and by answering the questions of prospective applicants.
Please contact me any time with all questions and wishes relating to international students at Corpus. My e-mail is sebastian.dhuc@ccc.ox.ac.uk, or you can easily find me on Facebook.