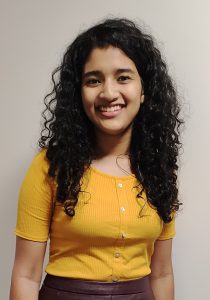 Hello! I'm Sampada, a first year law student from India.
As an international student, I've felt very welcome in the warm environment (and no, I really wish I meant the weather!) that Corpus has to offer. I hope to make this community even more inclusive by increasing the representation of international points of view in everyday college events like JCR tea.
I fully understand how moving to a new country can often be a shock – culturally, linguistically, and most definitely with all things food related. Keeping that in mind, I hope to help make your transition into embracing this new, yet wonderful, country a little easier – from where to buy warm clothing to pointing out the best authentic ethnic restaurants in town. I'm also always available to even just have a little chat – I know how big a difference it can make!
Also important to making Corpus more inclusive is having more international students here! I encourage current internationals to conduct sessions at their schools on what attending University outside your home country is like, and to urge them to apply as well!
Achieving these goals will, undoubtedly, be a community effort, and so I would love for (and need!) everyone to get involved. To my fellow internationals – be proud of where you come from and don't hesitate to celebrate festivals or really any community activity from home that you miss and want to recreate here. And to home students, continue to be welcoming to everyone at Corpus, and please do join us at celebrations and other events!
Feel free to reach out anytime at sampada.venkatesh@ccc.ox.ac.uk or message me on Facebook – I'm always happy to talk!