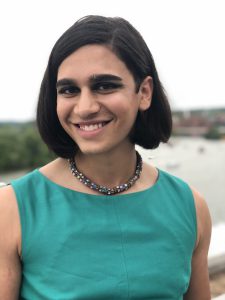 Hello, my name is Zaman (she/her) and I'm a first-year physicist and the President of the Equal Opportunities Committee. That means I (along with the Equal Opportunities Committee) am responsible for promoting diversity, equality, and inclusion at Corpus for people of all races, sexual orientations, classes, genders, faiths and abilities. I am also introducing a greater focus on mental health support at college and working on general welfare issues. Finally, I will organise Unity Week, which includes various events and entertainment focused on liberation politics.
I hope to help make Corpus an every-more friendly and inclusive environment with a commitment to improve and celebrate our diversity, and to provide better support to those who need it.
If you need to talk, or have questions, comments, or suggestions regarding equal opportunities or welfare at Corpus, feel free to contact me. You can reach me via email at zaman.keinath-esmail@ccc.ox.ac.uk, message me on Facebook, or just talk to me in person.