From the depths of a peaceful Oxford college, the thunderous stomping of over 32 testudinal feet can be heard. From deep within the heart of every Oxford student, a deep and ancient passion is summoned. And above it all, the hot sun beats down on a heated battle between colleges and their champions.

It is what it is, the Tortoise Race.
­
2018 report
The 2018 tortoise fair was forecast to be a stormy affair, but that didn't stop over 1000 die hard testudinal fans from entering Corpus' gates on the Sunday of 6th Week Trinity. Despite efforts of the skies threatening to jeopardise all plans as we set up during the morning, by the time the huge front gates swung open at 12 noon the sun was shining through, and by the end of the day the heat had been so great that we almost completely sold out of lemonade and ice cream. The smell of the barbecue drifting down Merton Street did a grand job of drawing in passers-by who gathered in the tranquillity of the garden to witness recitals from the Corpus Choir, led by Matthew Murphy, and Owen Tuck with his flamenco guitar solo. Corpus' very own first year band, Pelican Crossing, made their debut performance in the moments leading up to the main event, whilst Harry Carter played post-race and was once again a massive hit. In the main quad, the tinkling sound of tiny chimes echoed from all four walls as the Oxford University Morris Men delighted visitors with their jovial dancing and lively music.
As the Merton bells struck three, silence fell over the crowds who had descended on the makeshift arena where the big race would be taking place. As the president introduced each tortoise in turn, it became clear that the competition this year was as strong as ever. Alongside Oscar d'tortoise, a familiar face at the fair, were two other human tortoises who were challenged to eat an entire head of lettuce before one of their four-legged counterparts reached the finish line. After his disqualification last year, Foxe wasn't the favourite starter, but he managed to hold his own and came a respectable third in a field of 8, led by Tortellini from St Anne's.
As another successful fair drew to a close, the JCR executive committee were volunteered as human targets in a wet sponge throwing contest in an attempt to raise a few more pounds, bringing the final total raised to £3718.23, all of which was donated to Homeless Oxfordshire. A massive thank you has to be given to everyone who came down to support the event, whether by helping out or donating. Rest assured that Foxe is already training hard in preparation to reclaim his title at next year's fair.
—Lauren Owers
Custos Testudium, 2017/18
2017 report
The sun was shining, the burgers were sizzling and the helpers were ready; it was time for the Tortoise Fair once again.
On 28th May 2017, over 1500 people came to visit Corpus in all its glory for a summer's afternoon of jolly japes and tortoise racing. Despite a warning for heavy rain, we were blessed with a sunny day and were glad that we had vast quantities of ice cream to hand! With Pimm's to be drank, BBQ food to be had and several game stalls to be played, the fair raised over £5000 for Rory's Well, who provide clean water for communities in Sierra Leone (please see their website for updates on their latest projects).
The soundtrack to the day was delightful, with fantastic sets from Worcester Swing Band and the Society of Oxford Ukulele Players (SOUP). We also had a plethora of Corpus talent, with the choir showing their skills as well as stunning performances from Cameron Lonie and Jemimah Taylor. The day was beautifully ended with original songs from Harry Carter, whose acoustic set had people filling the small garden.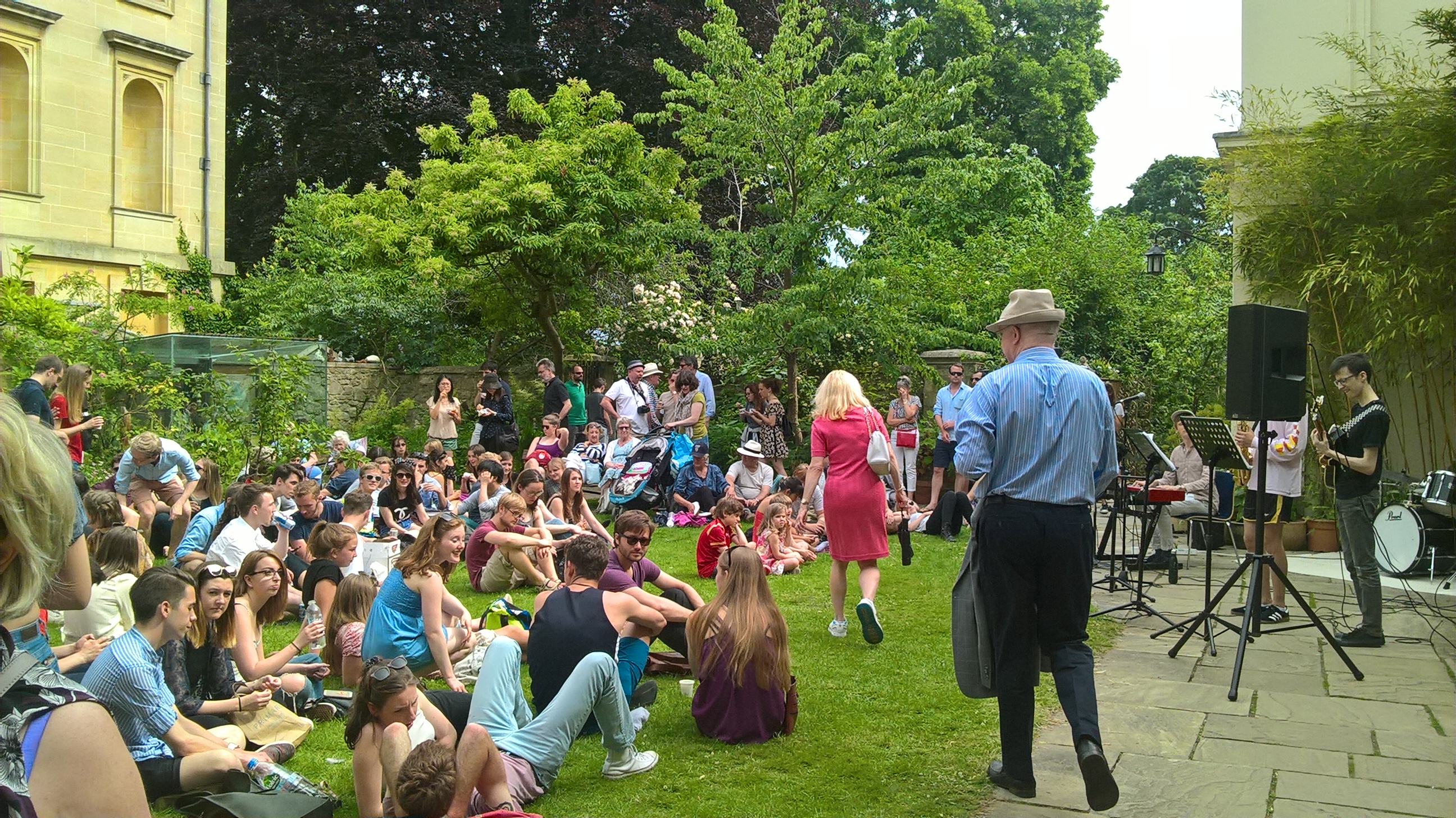 The Tortoise Fair is an event which truly embodies the spirit of our small and friendly college, as shown this year with the generosity of college members in giving their time and greeting the public with massive smiles on their faces. For all those that helped, thank you, the fair would not have been possible without you.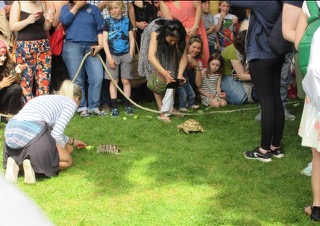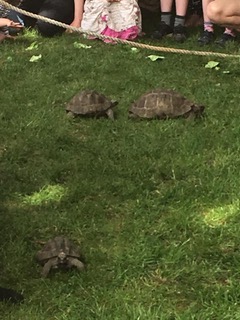 Over the years, the fair has seen many activities; folk dancing, alcoholic apple dunking, a Mr Universe completion but one thing always remains constant: the Tortoise Race! After the draw last year, both Foxe of Corpus and Zoom of Worcester were gunning for victory – but who was going to take it? After a slow start, Foxe was disqualified for literally biting at the heels of the competition whilst in the meantime, Zoom had his eyes on the prize and charged for victory, with Emmanuelle (Regents) 2nd and Shelly (Worcester) 3rd.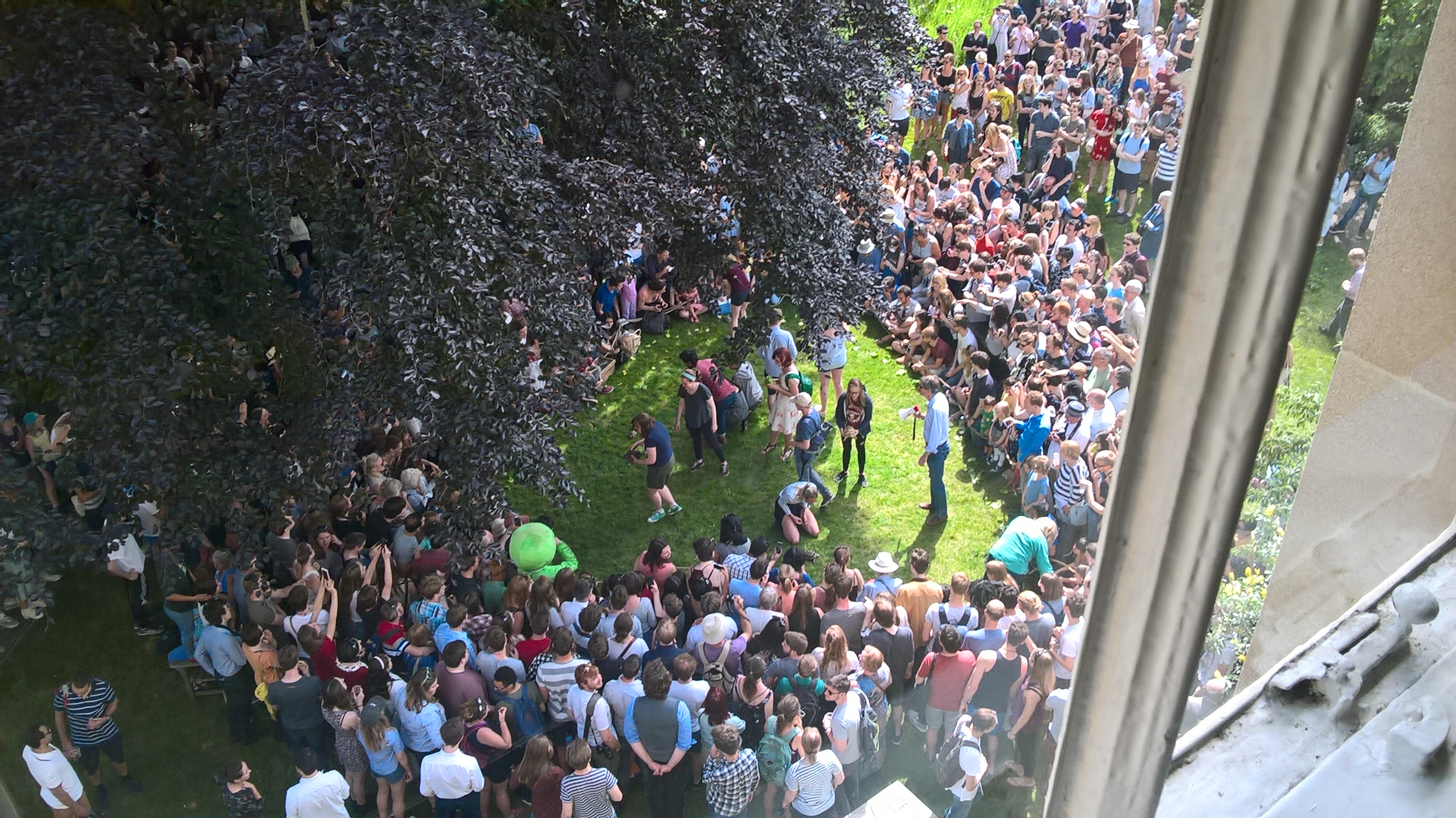 The Tortoise Fair grows with each year and it has been a privilege to be Tortoise Keeper and contribute towards Corpus' history. I hope that it only becomes more successful in the years to come and allows more people to fall in love with our little college.
—Beth Graham
Custos Testudium, 2016/17
[The first and last photos in this report were taken by Edward Hart and are licensed under a Creative Commons Attribution 4.0 International License.]
2016 report
This year, it was – precisely – a successful, hip and happenin' do; over one and a half thousand eager tortoise nuts showed up for the jolliest summer fair of the year, flooding through the merry gates of Corpus.
My good pal Helios also swung by, and did me a solid by raining sunshine on the whole jamboree.
With ample Pimm's, ice cream and sweeties to be had, and several quirky game stalls scattered throughout, the fair raised over 4000 pounds for the Agaisnt Malaria Foundation, who provide anti-malaria measures such as mosquito nets to the worst-affected regions of the world.
Amongst the greatest entertainments at the Tortoise Fair, special mention must go to a certain secret-shrouded and mystic stall hidden in a corner of the Fellow's garden: That of the reputable "Mystic Pete and the Mysterious Krasnopolski". Accompanied by the music of ancient wise-men, these two foresaw countless futures for all, and in the name of charity their palms were crossed with mucho dolla before long.
The Tortoise Fair, for those not properly informed, began in the summer of 1974, as a "gentlemanly challenge… issued to Oriel". In past years, it has been christened "the highspot of the Oxford Summer" and featured a bizarre variety of activities such as:
Alcoholic apple-dunking
Folk-dancing
Specialised Bops
A Mr. Universe competition!
A competition of death, organised by a notorious member in JCR mythos, Dr. Death.
Ever-changing, the Tortoise Fair is a dynamic chain of events, linked by the strong bonds of Oxford-based tradition and Oxford-student bemusement. However one thing never changes: the main event, the Tortoise Race!
This year's shell-riddled showdown ended dramatically within only a few minutes of its initiation… with a draw! Yes that's right, a draw betwixt Oxford's top-speed tortoises, Foxe of Corpus and Zoom of Worcester. Though this result has been contested by supporters on both sides, the ruling is clear: Victory is cleaved in twain.
What started as a desperate and quick idea to raise money for RAG in the 70's, has now developed into something deeper and meaningful than most would expect. In recent years the attendance has swelled from 80 in 2007, to more than 400 in 2009, and over 1,500 in 2016.  I can only hope future fairs bring even higher numbers of tortoise-loving hooligans to Corpus' sunny shores – if there is one thing I have learned as Tortoise Keeper, it is that Foxe is in fact, a diva – and he will always demand a larger audience.
—James Bruce
Custos Testudium, 2015/16