Cambridge victory
In the 25th edition of the Corpus Challenge, Oxford set out for Tabland with high hopes. After three defeats in a row, last year had seen the return of the Challenge trophy. With Oxford slightly ahead 13:9 on total victories, the stage was set for a thrilling showdown. Early on a glorious Sunday morning a motley Corpus crew assembled on the High Street to await the arrival of our coaches. Just late enough to set off some nerves the buses rolled in and we were away. As a sign of intent, this year's expedition was over 130 people and meant that a convoy of three coaches was needed to ferry us and all the requisite equipment to Cambridge. While two of the buses were sensibly packed with athletes who understood a good night's sleep and enough rest were essential for peak performance, the third coach, the self-proclaimed 'party bus', rattled its way through the document of specially prepared challenge themed chants. In full voice, then, Oxford arrived at the Corpus playing fields ready to join battle.
Straight off the bus the first engagements went Oxford's way for the most part. The rugby team put on a show in beating, on their own, the combined might of Corpus Cambridge and two other colleges. The match will be best remembered for the legendary performance of part-time winger Dermot Cudmore who scored a scintillating hat-trick to put the game well beyond the tabs. On the tennis courts a comfortable victory was secured as their university player was put to the sword through some careful court management and use of the prevailing winds. The football pitch was another matter. While the women scored a late winner to take the spoils, the men could not match their exploits. The second XI were clinically taken apart by some passing football which belied the muddy pitch and looming clouds. By the time the firsts took to the field the heavens had opened and the half time break had to be taken from within the pavilion for a few minute's respite. Sadly, the firsts spurned multiple chances in front of goal and had to drag themselves off the pitch knowing a 3-1 loss did not reflect the game itself. In the athletics relay we should have sensed something was up when Cambridge incessantly petitioned for this new sport's inclusion in the day's programme. A team whose majority represented the university athletics team faced off against a gang of recreational joggers. While the photo finish wasn't needed on this occasion that it was not a total whitewash tells of Oxford's fighting spirit. The netball was another arena in which fortunes were mixed. The mixed netball was up first and tempers frayed immensely. Poppy Miller's umpiring came under unfair suspicion as Cambridge sought to find any way back into the match which they finally did at the whistle. This undeserved defeat was swiftly avenged by the women who showed nerves of steel to hold out. Anna Reed put in such an outstanding performance that her name was sung to the heavens by the departing team much to Cambridge's chagrin.
In the individual sports a few noteworthy performances should be mentioned. Firstly, Jack Beadsworth managed to win his game of pool at 6:00 in the afternoon after a day of continuous drinking which left even the Cambridge spectators bemused at his stamina. In the Ultimate Frisbee, Oxford Wang skippered the team expertly to victory through some accurate throwing and tactical genius. Their weeks of training paid off handsomely. Finally, Kavi Amin showed a touch on the ping-pong table that I don't think even he knew he had in him. In front of a packed house his cross-court forehand was unstoppable and had the forfeit been an option I'm sure his opponent would have thrown the towel in after witnessing its destructive force in the first two points. In spite of Oxford's best efforts, the final scores favoured Cambridge and home advantage won out yet again. Nevertheless, a fantastic formal was had in great spirit. Once again, Jack Beadsworth was the catalyst for the entertainment. Whilst the Cambridge students had sat on their own, Jack took it upon himself to break down these walls and had even persuaded the catering staff by the end of the evening that the Oxford students were better company. His good work ended here as his next contribution to the evening was to forget all his clothes in their JCR. After formal the whole college proceeded to St Catz bar and then on to a night out in Kuda. Oxford's stamina and dedication to the challenge was nowhere better shown than here where even the prospect of a bus journey home and a 20-hour day couldn't keep them off the dance-floor. Eventually we took ourselves off to the buses and, unlike last time, without losing anyone made the long journey back to Oxford. A fantastic time was had by all and I can't wait for next year to return the trophy to its proper home as a fruit-bowl in Corpus Oxford.
Hugo Shipsey
Clubs & Socs Officer 2017–2018
Athletics – Thomas Munro
On a windy, raining Corpus Challenge, when many other sportsmen had been driven inside the Cambridge pavilion by the weather, four brave Corpuscles under the wise tutelage of their manager/captain prepared to take on their Cambridge rivals. Though the mendacious Tabs had pretended they didn't have a team until the last minute, the Corpus team remained courageous even when it was clear that they would be racing two blues, both wearing running spikes. An impromptu relay course was set up across the rugby field, the racers warmed up and took their marks, and then it was begun.
First up was Matt 'The Machine' Carlton, who managed to stay right on his opponent's tail despite the fact the Tab had started running before the countdown was finished. Reaching the end of the field, he handed the metaphorical baton to Celine 'The Lightning' Li who gave her opponent (who was at least twice her height) a run for their money until the closing stretches of the race. Libby 'The Chaser' Cherry kept up a strong performance in the third leg of the race, but Cambridge's sneaky deployment of Blues runners began to take its toll. In the final part of the race, Russell 'The Rocket' Reid, despite being put up against a 17 year old maths prodigy and Cambridge blues runner, was able to secure what I, as the manager and strategist behind the Oxford team, would term a photo finish. Corpus Cambridge, however, had narrowly beaten us, despite the extreme courage demonstrated under strenuous conditions by our team. The Oxford team should be congratulated for their dedication to a near-Homeric heroic ethos, and all four are worthy of κλέος ἄφθιτον.
Badminton – Amy Shao
Three pairs from each team playing a round robin style of tournament was the format of this year's Corpus Challenge. Although initially oversubscribed, we managed to provide a suitable number of people. Fighting valiantly, Oxford was unfortunately crushed by Cambridge at a tragic 0–9 loss. The Cambridge team were clearly skilled and had been playing regularly to train for their cuppers league. The Oxford team, to say the least, had not been. Regardless, a massive thanks to Jake Hutchinson, Adam Steinberg, Lauren Owers, Phoebe Tealby-Watson and Megan Healy.
Board Games – Oscar Beighton
Corpus Oxford fielded a strong board game team this year, with a focus on the Catan contingent, so it was disappointing to find on arrival only one Tab brave enough to face inevitable defeat. While they eventually succeeded in doubling their ranks, we benevolently allowed them to witness our strength in a couple of friendly games, with several rounds of Coup followed by an impressive Smallworld campaign. As more Tabs trickled in throughout the day, several small games of Jungle Speed, Chess, and Coup were played, but in the end their showing was small enough, and their attitude friendly enough, that we decided to bestow upon them an agreement of truce, and decided to declare a tie out of mutual respect for each other's efforts (and they were shite).
Football (Men's 2nd XI) – Maximilian Brook-Gandy
In possibly the lowest scoring game in the history of reserve team football, the men's seconds football were deeply unlucky as we came out with a 1–0 loss. Spurred on by the presence of a former semi-pro calling the shots from between the sticks (even if he did only have one glove), we were able to withstand an early barrage from Cambridge, especially with the help of an offside call from James Dempsey who was actually watching the rugby two pitches away. However, eventually their attacking threat prevailed and we went in 1–0 down at the break. The second half was much more hard fought though, with our performance being greatly aided by both a series of beautifully-timed flying tackles from Ryan Mamun and a few questionable decisions from a certain injured referee who was never less than half the pitch's length away from the action. In the end, it all came down to a golden opportunity to draw it level with the last kick of the game, which was agonisingly put straight at the keeper by a player who I'm sure wishes to remain unnamed.
Man of the Match: Not Kavi Amin.
Football (Women's XI) – Miriam Lee
Having won Women's football for the past two years at Corpus Challenge, the Oxford team were itching to get one in the back of the net and make it a hat-trick. The team saw the return of mighty players Sarah and Shona alongside lots of newbies in all year groups trying their foot at the beautiful game. Special shout-outs should go to Ana L and Celia N for absolutely smashing their Corpus football debuts! The tabs had some strong players but their difficulty keeping to the off-side rule meant that we quickly got a cheeky goal in the first few minutes. They upped their game and rearranged some players meaning that the half-time score was an even 2–2. We fought hard in the second half with lots of attempts but no good finishes until… the final 2 minutes when good ol' Zoe K did a thing and got one in the net! What a legend! Final scores on the doors were 3–2 to Oxford showing, yet again, that small is mighty and the CCCWFC knows how to shoe.
FIFA – Jeremy Huitson
I can't actually remember the specific results as I wasn't watching most of it. I lost in quite an embarrassing way, blowing a 2–0 lead and getting 3 players sent off. Calum Prescott, as he tends to do, completely bottled his game and lost 3–0. Anyway, it went to a decider and Kavi lost on penalties.
The team was let down by the no-show of Dermot Cudmore, who had been grovelling to play and out of the kindness of my heart I let him, only to be informed on the day that he was no longer available. There are rumours that this was linked to some extra-curricular activities that Mr Cudmore had been speaking about online in some detail beforehand, but as of yet this has not been confirmed.
I had a lovely time at Corpus Challenge nonetheless.
Netball – Poppy Miller
After an abrupt early wake up, the Corpus netballers were ready for their glamourised 'school trip' to Cambridge.
Having thrashed the tabs at challenge last year, we were fairly confident, although slightly concerned about what the home advantage would do to our game plan. And alas, despite our optimistic outlook the day didn't quite unravel as planned.
First up was mixed netball. This was already a mistake – ladies netball should always come first, if only to allow for a vague sense of sportsmanship before the boys come and disrupt everything. But no, Cambridge wanted to play mixed netball first, so that was that. It didn't get much better from there, with Cambridge citing that 'their rules' were the only option…
Then the game began. It was very fast paced and the Oxford team rose to the aggressive nature of the opposition, but ultimately Cambridge snitched us to the win with 12 goals to 11. However, this is a particularly impressive score since Corpus Cambridge actually have a fully fledged mixed netball team (whereas we have never played). So hats off to the Oxford boys (you're clearly more naturally talented).
Next up was ladies netball and we were excited to try and build the broken bridges left from the previous game. Things didn't get off to the best start, with Cambridge seeming to think that we were incapable of understanding the rules of netball (which we aren't by the way). But with some sassy comments from individual members of the team we continued on, goal for goal.
Then BAM. Our WD falls over due to her incredibly pushy defender and seriously injures herself :(( Not good. After having to get help to take her to A&E (Katie you're an absolute star) we had a team gathering. Now came the tears, frustration and anger. After initially refusing to continue, we were persuaded to play one last half. In order to keep the team motivated (and keep the tears at bay) we decided that shouting some fantastically annoying (but uplifting) chants was the only way to go. By now the Cambridge team certainly didn't like us very much. Safe to say we were all glad to hear the final whistle and although we took the victory, it didn't feel particularly sweet. We'd like to thank Cambridge for such a unique netball experience but we're certainly looking forward to showing you 'the Oxford' rules (!) next year.
Pool – Jack Beadsworth
It probably won't surprise many people when I say that I have a very fuzzy memory of the pool match at Corpus Challenge, so some details may be missing.
Despite the majority of the team being more interested in getting drunk than playing high quality pool, we did successfully shoe the tabs 4–3. Kavi Amin continued his excellent contribution to Corpus Challenge by being comprehensively beaten, and Hugo Shipsey (the self-proclaimed best player in college) was also defeated. Fortunately, Cam Lonie and James Dempsey were on hand to bring the scores back to 2–2 with pool of the highest calibre. When it came to my frame I was already 10 cans down and seeing two white balls at once, so I was extremely grateful to my tab opponent when he decided to pot the black on his first shot (it was really first-class hospitality from him). Noah Glasgow Simmonds annoyingly lost his frame, meaning that the centrepiece event of the Corpus Challenge was going to a decider. Up stepped young, fresh-faced fresher George Taylor. Under enormous pressure, and with the hopes and dreams of Corpuscles past, present, and future resting on his shoulders, George played the interesting tactic of allowing the tab to pot all of his balls first. This tactic, however, was a master stroke as the tab proceeded to pot the white and the black at the same time, giving Corpus an historic victory and the members of the team (who won their frames) legendary status for all eternity. Well played boys.
Rounders – Alex Wilson
Alex Wilson's Rise to Rounders Excellency: A Memoir
After I made my debut with Corpus rounders last summer for Pimms and rounders, I realised I had found my sports calling in life. I clearly showed my prowess as Rounders Captain then, partly attributable to the Pimms, because I was then scouted out by the Clubs and Socs captain (bit of a weirdo) for the biggest sporting event of the year, Corpus Challenge.
Once I had got over the initial excitement, I got straight into recruiting. It was clearly successful as rounders had one of the highest sign-up rates (even without the people I signed up myself). I assembled the young recruits into a group chat which saw continuous growth, as my marketing talents could not be restrained. A few recruits could not hack the extreme sporting pressure they came up against and left, but the mighty stayed on.
Finally, the Corpus Challenge Eve came and I could barely sleep, perhaps due to taking two caffeine pills before bed. Early next morning I was feeling pumped (potentially due to taking another two caffeine pills) when I met my first hurdle: I'd forgotten to bring the JCR's antique rounders bat. Fortunately, the tabs came to the rescue and supplied their own. The match started at 11, providing ample opportunity to warm up and watch Corpuscles partake in some inferior sports. After some confusion over the location, I finally managed to assemble the team. We had many more players than the Cambridge team (poor show from the tabs), so I had to be selective. I made the difficult decision not to play, and taught the players all the knowledge that I possessed.
We started with batting, with some gigantuous hits made by Caleb and Sarah. We then moved on to fielding after making a last-minute substitution. There was some excellent play here again; a special shout out to Jenny's bowling and Poppy on second base. For me however, the real MVP of this game was Akshay, whose half-rounder brought us close to victory. Unfortunately, we couldn't quite take the win, potentially due to the lack of Pimms. I couldn't be prouder of the team for taking on all my teachings; the students have really become the masters. Cambridge better watch out for next year! #shoethetabs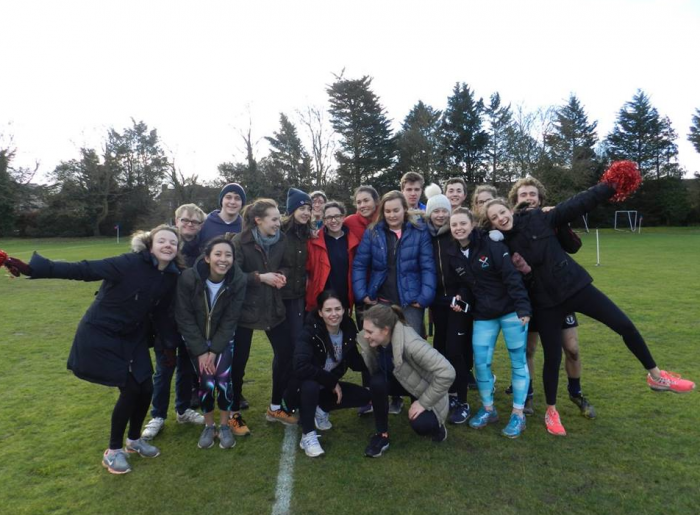 If you don't recognise half the people in this photo don't worry, they're tabs (I was confused as well).
Rowing – Sacha Tchen
The rowing this year was decided by 5×500m for the women and 4×250m for the men. The women went first and Cambridge won comfortably beating our team of mostly novices. After a short break (during which most of the men played rugby), it resumed with Cambridge winning by a very small margin.
Rugby – Robbie Oliver
CCKRFC 5 – 36 CCCORFC
On a bitterly cold day, the combined might of Corpus Cambridge, Clare and Kings were preparing to take on Corpus Oxford. Despite that giving the tabs more than 4.5x as many people to choose from and the Challenge being held in Cambridge this year, only a handful of them actually bothered to turn up for their warm up. (Even then they only passed the ball in a circle before getting cold and hiding in their pavilion.)
Meanwhile, the men of Corpus Oxford were honing our skills, putting the final polish onto our structures and, of course, activating our glutes. By the time the tabs had managed to scrape together 15 players, we were looking very sharp, despite having Sam Hazeldine, a flanker with questionable ball skills, playing at fly half.
The first minute would set the tone for the rest of the game. We kicked the ball to the tabs, who immediately dropped it. Following a dominant scrum, Russell Reid – a man whose size can only be described as "negligible" – scored under the posts since it appears the tabs only believe in defending a blind side of any size with one man. It's likely that they overloaded the open side defence to try to deal with the running threat and outright pace of Huw Thomas on the right wing.
The game carried on much in the same vein, being played in excellent spirit by both sides – but only well by the Oxford boys. A special mention to Dermot Cudmore who managed to bag himself a hat trick despite forgetting to warm up (doubly impressive given the inactive state of his glutes). His final try will go down in Corpus Rugby folklore – mainly as he won't stop talking about it himself. The tabs managed to make no less than 3 knock ons behind their own try line – all by different players – before Dermot strolled to the ball and tapped it down. It was also a delight to welcome Robbie Fraser – who is somehow even smaller than Russell – back into the team following his long injury lay off.
I just want to say a huge thank you to all the Corpus Oxford boys, and particularly those who don't regularly play, for putting a huge shift in on the day – it was an honour to be your captain. Also, thanks for the Cambridge lads for being top quality blokes and making the day thoroughly enjoyable, even if some sterner opposition would have been welcome!
Yours tab-shoeingly,
Robbie Oliver
Table Football – Arthur Hussey
Corpus Christi Oxford cruised to a comfortable victory thanks to a forfeit from the Cambridge team. A 5 leg affair had been arranged just minutes before the scheduled kick-off time, but despite the JCR being full of raucous table tennis fans, Cambridge could only muster a single player. Oxford therefore claimed an important 20 points, but not before Yanakan Logeswaran was hammered in the single game that was played. Many pundits asserted that it was Captain Hussey's tactical disorganisation that lead to such a comprehensive victory.