Oxford 92–62 Cambridge
After several years of defeat at the hands of our Cambridge counterparts, the troops rallied under the banner of Bishop Foxe for the 22nd iteration of Corpus Challenge. A day of blood, sweat, tears and tantrums from the JCR Clubs and Societies Officer cumulated in the first Corpus Challenge victory for Oxford since 2013.
I would like to once again thank those in college that helped to organise the day, particularly the Challenge captains, the Challenge committee, Rob the groundsman, and the college staff. A massive amount of credit must also go to Sarah Richards who worked hard to organise Challenge on the Cambridge side of things and did a great job of making sure we didn't have a repeat of the Michaelmas Merton Street Games fiasco.
Corpus Challenge is only successful when members of both college get behind the day's activities with enthusiasm and friendly competitiveness. This year was a prime display of these collective virtues, and I hope that this event is a success in future years for these reasons.
Without further ado, here is a breakdown of the day's activities from the captains themselves.
Peter G. Woodcock
JCR Clubs and Societies Officer 2016–17
Mens 1st XI Football – Joe Ball
We shoed the Tabs 2–0 in a gritty fixture, with the green carpet of Fortress Abingdon flecked by snowflakes falling from the heavens. This is the fifth consecutive victory for the CCCFC 1st XI in Challenge and was a satisfying dominant performance after the agony of penalties last year. Both goals were cooly taken by talismanic striker and former Challenge-winning captain Miles Partridge. The footballers were also victorious in rugby, hockey, tennis and squash, and the Marlboro Corpus Challenge Cup returned to its rightful home before a cowardly tab stole it from a rather hubristic Woodcock in the BC. Cup has now been anonymously handed in (wetters) and is on its way back to the city of dreaming spires where it rightfully belongs. Corpus, bomaye!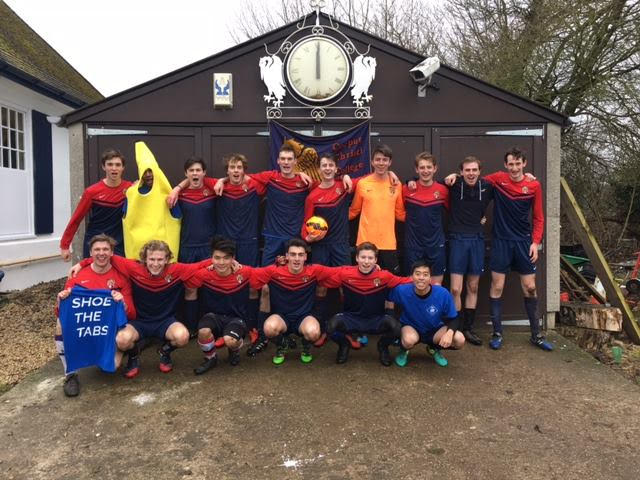 Womens Football – Miriam Lee
It was clear from that start that Cambridge were far less enthusiatic about football than we are. We were determined to keep hold of our title from last year and so in order to play a proper match, Miriam went around rallying Tabs to eventually secure a team of 11 for them. Needless to say, there were quite a lot of newbies on the pitch including their valiant goalie who played in a puffer jacket, jeans and converse with a twisted ankle. As the snow began to fall and referee Yanakan the Banana-man blew the whistle, Bethan and Sarah swiftly scored goals for Corpus. After the first 5 minutes, agreement was made to only play 20 minute halves as the Tabs already felt well and truly shoed. The first half ended 4–0 to Oxford as their unprepared goalie made many an unexpected save. For the second half, we mixed things up and switched our players into positions to aim for every person on the team to have scored a goal by the final whistle. We didn't quite make the mark but the game ended 9–0 with 6 having scored goals – Bethan, Sarah, Shona, Stef, Miriam and Leila. A strong effort from Corpus whose Women's FC have only gone from strength to strength in the past few years.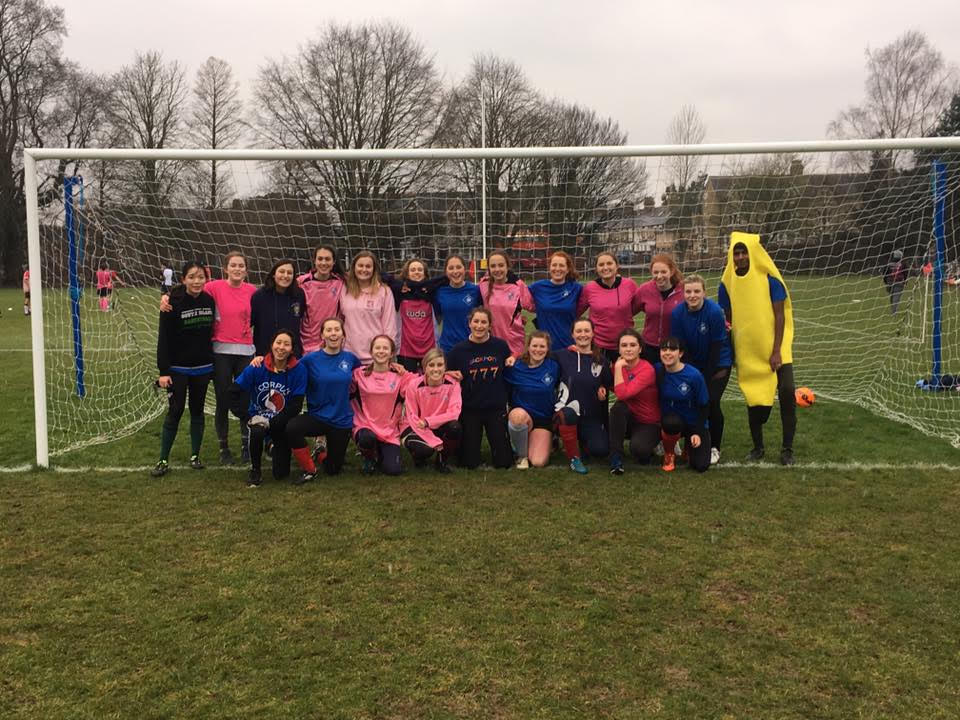 Ultimate Frisbee – Oxford Wang
No match report provided but I am informed that we lost. —Peter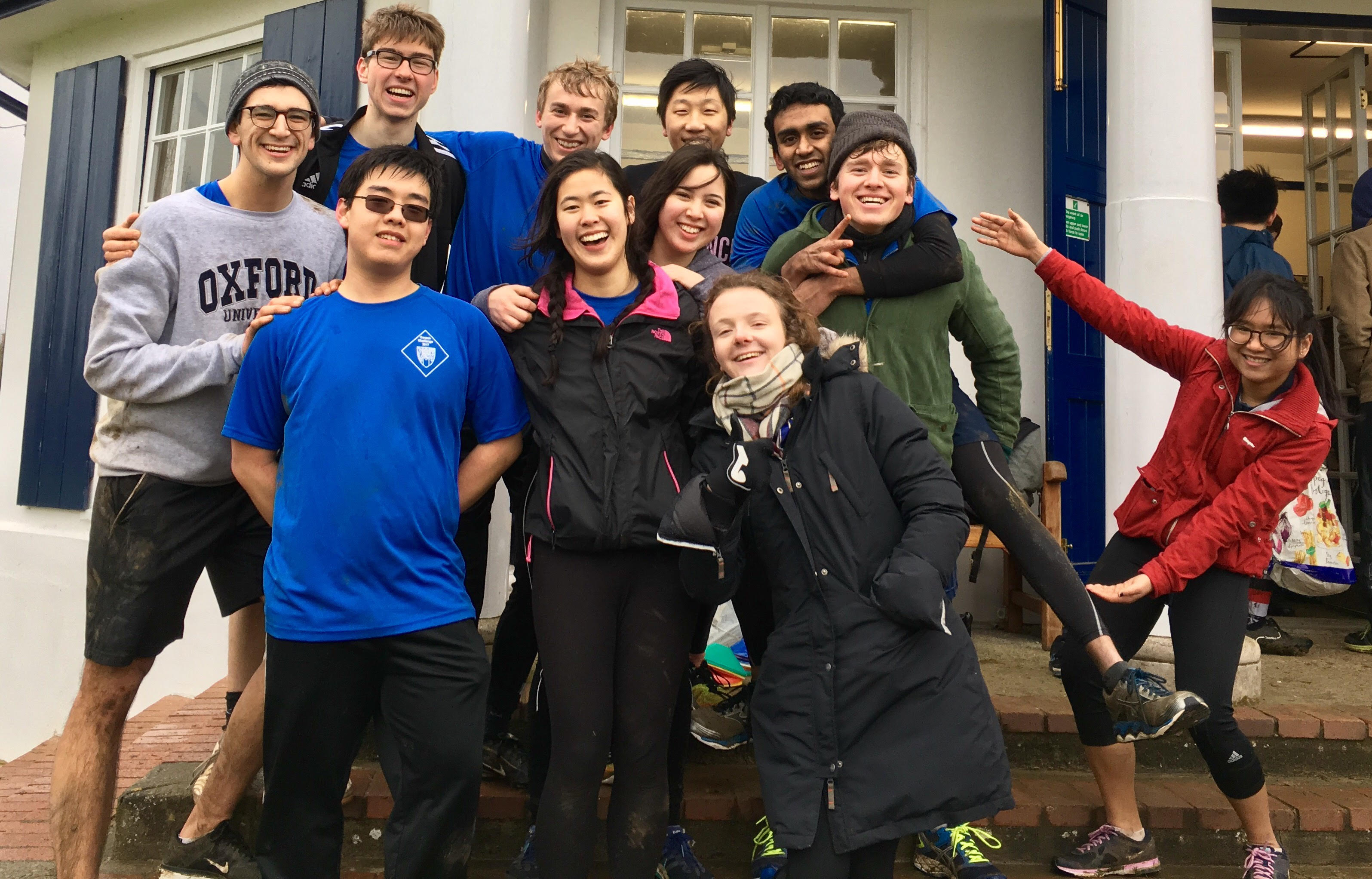 Rugby – Robbie Oliver
CCCORFC 44 – 10 CCCCRFC
As the snow fell, there was a buzz in the air at Corpus sports ground. Everyone knew, even the tabs, that Challenge was coming home.
Corpus Cambridge have a joint rugby team with two other colleges, giving them a pool 4.5x times bigger than us to select from. Despite this, only 3 tabs made it to the pitch on time for a lonely warm up, which mainly consisted of kicking the ball about until they got cold, then hiding in the pavilion. Meanwhile, our refined and polished 23 man squad was looking sharper by the second. By the time we finally managed to purge Ultimate Frisbee from the pitch, a few more weary recently-shoed tabs wandered over from the 1st XI football.
To allow us to play a game of 10s, we leant them Jack Holland, a chemistry 4th year who has promised to play for us each year of his degree, so we felt that it was only fitting he make his first (and final) game for the wrong Corpus.
The game started as it would go on. Robbie Fraser, who doesn't strike the most imposing figure at 4'7'' tall and 20kg following his latest "big bulk" with a hairstyle that can only be described as woollen, skipped through the Cambridge defence to dot down under the posts. Two tabs were forced off the field after a head collision as they each dived desperately at Robbie's heels from opposite sides.
The game went on in much the same vain, being played in an excellent spirit by both sides, but only well by one. It must be noted, however, that Peter Woodcock not only failed to deliver his promise of two tries but also lost the long-coveted Challenge Cup later that night, so must now face a motion of no confidence in the next JCR meeting. His prospects don't look good.
A huge thank you to all the Corpus Oxford boys who turned out – I know it's not everyone's idea of fun to have big, sweaty men run at you on a Sunday morning. Finally, we'd like to that Cambridge for taking part – your participation certificate is in the post.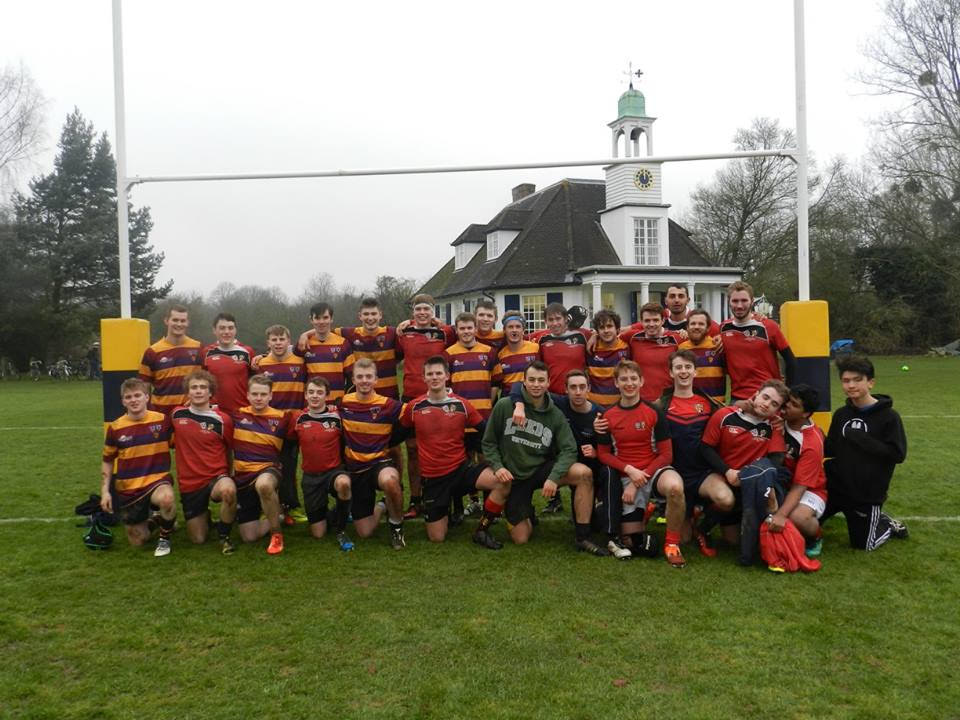 Tennis – Hugo Shipsey
Due to a Mods related injury, Shipsey was unable to provide a match report detailing our victory in the tennis. Get well soon Hugo. —Peter
Board Games – Amy Shao
Snow was falling, the board games were laid out, the scene was set for a day full of friendly competition of the non-physical variety. We kicked the day off with an extremely close game of Articulate, showing impressive ability from both teams. The nail-biting final was decided by the last question, which was taken by Cambridge due to their usage of Latin to explain the word. We also played Jungle Speed, which we put up a valiant fight for considering that none of us had played the game before. This was followed by Bananagrams and a Pub Quiz which were both once again narrowly taken by Cambridge side. We ended the day by playing friendly integrated games of Risk and Settlers of Catan.
Mens 2nd XI Football – Arthur Hussey
Corpus Cambridge did not bring a team, forfeited and therefore lost 3–0. Skipper Arthur Hussey was the scorer of all three goals.
Hockey – Milo Fabian
Wet. It was wet. The weather was wet, and it made the ground wet, and it made the playing surface, the players' clothes, and the players themselves, wet. The dreary atmosphere of moisture that shrouded St Gregory's Catholic School in eastern Oxford, this year's venue for the Oxford leg of the annual Corpus Challenge, fortunately had no dampening effect on the fiery performance on the field. The hockey, at least, was played with a certain freedom only observed in schoolchildren at the height of summer. By this, I mean to say the hockey was good; or at least, that which was played by the mighty "Oxen" of Oxford was. The Cambridge team were ill-organised, ill-prepared, and generally ill-suited to the match-up, which, to use the old cliché, had it been a boxing match, the umpire would have called off in the second round.
The Oxen coped with the delayed start mightily well, given how uncompromising our warm-up routine has been this season, and it actually afforded us time to hone our short-corner routines and master a few plays, which we duly code-named and ran in-game. In due course, the game began, and with players who have become household names, it was always difficult to imagine an Oxford loss. With a starting line-up including Marks, Moore, McNab and Ball, it may have looked to be difficult for other players to make an impression, but storming performances came from several new big-money signings, including Bethan Murray and Huw Thomas. There were also sterling performances from the likes of Spink, Oliver, Peer, Tsang, Selby, Kuyken, and Tchen.
The end result was a win for Oxford, by 5–1, with three for Ball, one for Moore, and one for Marks. It was, and is, the year of the Ox.
Netball – Poppy Miller
Netball is usually thought of as a pretty tame sport, with little contact or aggression…however, it is definitely fair to say that this wasn't quite how the day panned out at Corpus Challenge…
The session kickstarted with the ladies netball with both sides keen to make a good impression. The tension was high, as was the speed of play but Oxford (after a rather poor defeat last year) were ready for revenge, much to the surprise of the opposition who thought they'd be in for an easy game. It was closely fought but after 40 minutes of high octane adrenaline, some pretty bad umpiring and a fair few aggressive comments, Oxford were ecstatic to take the win 28–22.
Then came the mixed game… which to be honest can't really be described as netball such was the incredible lack of skill and interesting interpretation of the phrase 'no contact'. Despite the number of tackles the girls had to brave, we picked ourselves up, shrugged off the bruises and came back to win 9–5, showing Cambridge's top league mixed team just how it was supposed to be done.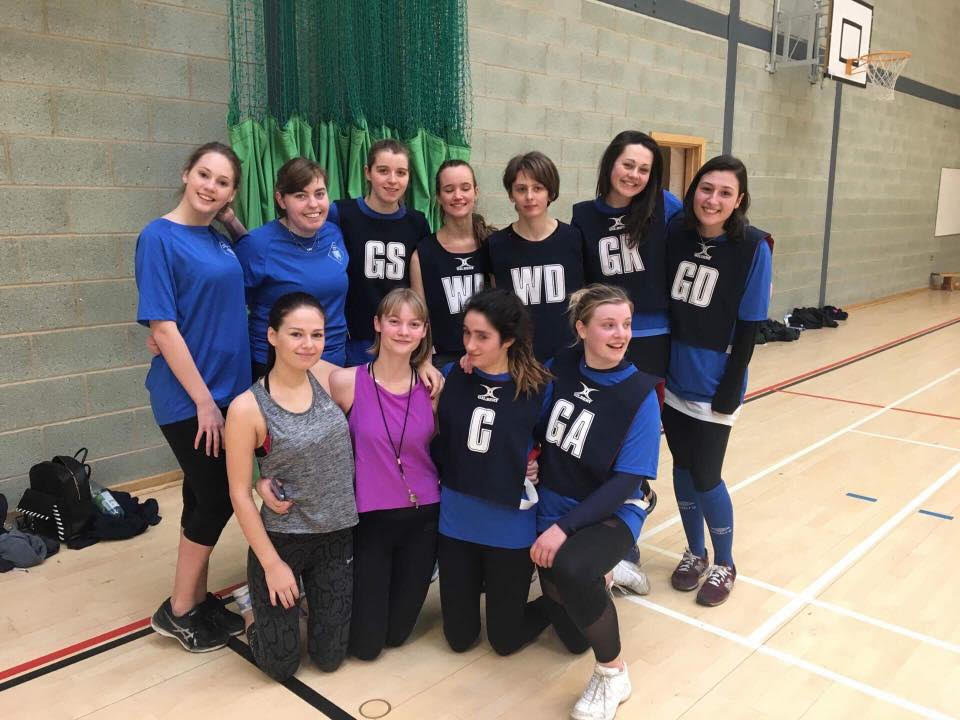 Table Tennis – Oxford Wang
The match report of our loss to the TABle tennis players is, much like the challenge trophy, a no show. —Peter
Squash – Shiv Bhardwaj
After much doubt over the fixture, Corpus Challenge Squash took place on a rainy Sunday afternoon. The fine college men in the team were myself, Angus Nicholson, Miles Partridge, Howard Rich and Akshay Bilolikar. Unfortunately only one tab appeared for the first hour and a half, and despite jokes about repeatedly shoeing him, he was a fairly good player. Just when we felt it would be a win by default, three tabs appeared right at the end of the session with us 1–0 up at this point. A lazy afternoon of squash had taken its toll and the score was levelled at 2–2. With no 5th tab in sight, I accepted their desperate appeal for a draw, on the grounds that they had actually played quite well.
Mixed Lacrosse – Nathan Stone
Final Score: 6–0 to the Tabs.
If, gentle reader, you have ever heard the story of David and Goliath, you will perhaps have some conception of the challenge facing the famous CCC in this mixed lacrosse showdown. Alas, however, there was to be no such epic upset, as the defiance of the valiant Oxford players led by inspirational captain Nathan Stone ultimately wilted in the face of the tab onslaught. Our opponents were not your standard rabble of mindless tabs, you understand, but rather the champions of Cambridge Cuppers in the sport. Amongst our heroes, on the other hand, there were about three people who more or less knew how to hold a lacrosse stick, and the captain – devilishly handsome though he may have been – had signed up thinking he was going to be playing croquet, understandably mixing up his French-sounding posh sports.
Nevertheless, there were a few glimmers of early hope, largely owing to the fact that an agreement had been reached to suspend most of the actual rules of lacrosse, thus allowing Oxford players to essentially swarm around the Cambridge ball carriers as opposed to players actually adhering to their positions, thus cutting off potential passing lines. This novel defensive tactic met with relative success in the opening half, and the deficit was just 2–0 at the break. There were even occasional moments in which Oxford had possession of the ball, with some darting runs from the likes of Robbie Fraser, Xav Peer and Sacha Tchen asking some mildly testing questions of Cambridge's own defensive play, though we invariably came undone owing to the fact that precious few of our number could actually pass the ball, with Poppy Brown and Bethan Murray being the most prominent noble exceptions to this rule.
The second half, alas, saw the Tabs pull away into a commanding lead – doubtless due in no small part due to the fact that the Oxford captain, such a lion in the opening period, subbed himself off. There were still some very pleasing moments in the second period, however, with Milo Fabian putting in an impressive shift and Sacha Tchen putting a particularly insufferable Tab on his arse repeatedly in a wonderful display of manic yet controlled aggression. Despite the lopsided nature of the scoreboard, the margin certainly flatters the tabs who had the rub of the green on the day and also had the advantage of knowing what lacrosse was, but this performance certainly bodes well for a more competitive mixed lacrosse fixture in next year's incarnation of the Corpus Challenge.
University Challenge – Akshay Bilolikar
Corpus Christi College, Oxford – 1st team
1. Bilolikar, Akshay (C)
2. Wang, Oxford
3. Kelly, Graham
4. Thorne, Benjamin
Substitute: Trimble, Gail
With Mr. Harris asking the questions, and with a scholastically diverse team on the buzzers, confidence was high and the first starter for ten was taken for Oxford by Wang, Oxford. The question, on something obscure and medical, was followed up with questions on British horticulture, which sadly we could not answer. We were then struck with two physics questions, an academic blindspot which was to haunt us throughout the match. Cambridge took the lead with their "Natural Sciences" expertise. With expectations significantly dampened, Oxford parried the Tabs with the answer "Lloyd George" offered in response to the words "Minister for Munitions" and "1916", provided by captain Bilolikar, Akshay, of the ship. After that great victory, the Tabs returned with a vengeance, taking comfort in their strengths of the physical and chemical sciences, as well as geography. In the categories of music, human biology, and things in Latin, Oxford dominated with excellent answers provided by Kelly, Graham, Wang, Oxford, and Thorne, Benjamin respectively. The mix of the questions, sadly, was too much for Oxford and the Tabs managed to outpace us by the time the buzzer rang.
Score: 270–190
Rowing – Cameron McGarry
CCCBC(O) and CCCBC(C) had hoped to square off on the Isis but due to unforeseen circumstances we instead met in the erg room. Having seen Corpus Oxford lose the last three erg races, and indeed the last three Corpus Challenges, I was extremely nervous to see the giants of the Cambridge crew manage to squeeze their shoulders through the narrow door frame. Corpus Oxford is not known for fielding large crews, preferring to dominate through superior technique on the water than brute strength, but we gathered nonetheless to defend our honour.
We eventually decided to stake the entire 16 points available for men's and women's ergs on a single, mixed 10x500m relay, consisting of equal numbers of men's seniors, men's novices and women's seniors in the lineup. Cambridge fielded a different order to Oxford, choosing to alternate between men's novices and women on the middle six, whereas our middle six consisted of our novice men followed by all our women. Two senior men started and finished the race for both crews. This lead to an interesting battle: the first two senior men established an early lead for Oxford, which the novice men roughly manged to sustain. Oxford's women managed to not only hold ground but rebuild the lead over the Tabs and our final two senior men brought it home for a decisive 15 second victory over CCCBC(C).
Special kudos to Oscar Beighton, who erged so hard he can't actually remember his second 250 meters.
Pool – Kavi Amin
With a format of the best of seven individual singles games, every man was clear of their task. Noah, showing great courage (or just because he had to leave early) stepped up and played the first frame. His strong long potting and an unrivalled knowledge of the topography of the Oxford table meant he was no match for his opponent and corpus took a 1–0 lead. Unfortunately Miles, Milo and Beadsworth couldn't follow in Noah's footsteps and we lost the subsequent three frames to give Cambridge a 3–1 lead.
After managing to win my own frame to take it to 3–2 we had a very difficult decision to make. Ought our MVP David Chown play the next game or ought we to save him if indeed we were able to take the score to 3–3 and have Chown ready to bring it home? Ultimately, the decision made was to give Robbie Fraser the 6th frame and owing to his fatigue after persistently running past the Cambridge rugby team to the point of boredom, he unfortunately came up short and thus Cambridge were able to reach that 4 wins mark that meant they were uncatchable. David Chown did of course win his game to leave the final score 4–3 to Cambridge.
I think that ultimately the conclusion that we can draw is that it was all Beady's fault.
Darts – Maximilain Brook-Gandy
It all started with France vs Scotland. The entire Corpus darts squad assembled to sink some 'hand-steadiers' over a thrilling half of the Six Nations. Unfortunately, a mixture of dehydration, lack of nutrition and anger at the Scots' demise contributed to certain members of the team being rather inebriated. But, alas, we proceeded on down to the oche nonetheless.
With numbers low for both teams, we entered into an epic 3 vs 3 contest. One of the opposing team members had some trouble hitting the board at first. However, upon closer inspection, it transpired that she was quite good-looking and so we gracefully allowed her to move half a foot closer to the board. After a fine dart from skipper Maxi 'The Bumfluff' Brook-Gandy, dressed suitably in formal attire for the occasion, to win the bull-off, we were left disappointed as the Tabs rallied to win the first leg. At this point, we knew we were in for a proper fight.
The second leg showed much more promise. Jeremy 'The Hitman' Huitson sure started to hit the board… even twice in a row at one point, before skipper Brook-Gandy cashed in an impressive check-out of 6. And so we entered the decider. By this point, the masses had gathered to witness this historic moment. Even the infamous Peter 'The Cock' Woodcock, most known for his failure to become JCR president and more generally for being a bit of a shit lad, absent from the team due to failed drug tests, was there to spur us on.
Unfortunately, the aforementioned female fluttered her eyelashes at Jack 'allegedly funny' Counsell and his brain turned to mush. Even the other pissed-up heroes didn't have the arrows to save us and we came out the 2–1 losers. Skipper BG promptly resigned and is rumoured to have been in hiding from Woodcock's wrath ever since. Please send any information to Jeremy Huitson if you know anything of his whereabouts.