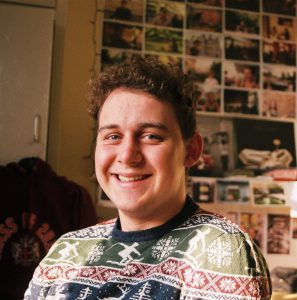 Hi! I'm Caleb, I'm the Corpus JCR Male Wefare Officer, with my wonderful counterpart Gemma! I'm a second year studying something at Corpus and I use he/him pronouns. I like reading, napping, horror films, rabbits, and tortilla chips.
Gemma and I are here to act as a point of contact for support and welfare – from listening and having a chat, through to organising college/university wide events and ensuring fair provision of welfare. We act with full confidentiality, and are there to help point you in the right direction towards any further help needed! The Welfare team also run weekly welfare tea, where you can grab a nice cup of tea and some free food and sit down with the other members of the JCR – in certain weeks we also run special events to help pep up the term! We also represent the JCR on various committees, including representing with Senior Staff – several of whom I know as personal tutors and the college doctors. We also ensure that the JCR has access to sanitary products and contraceptives!
If you have any suggestions of ways we as a college could improve our welfare services, hmu!! (Also hmu if you're a vegan. Veglove xxx)
Contact me at caleb.barron@ccc.ox.ac.uk.