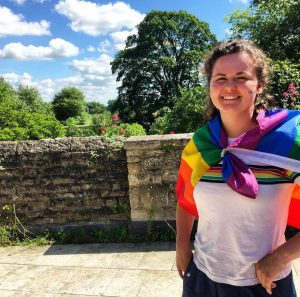 Hi! I'm Lauren (she/her pronouns) and I'm the LGBTQ+ rep for Corpus. I'm responsible for running LGBTQ+ events during freshers week and throughout the year in college, as well as generally trying to make Corpus as welcoming for LGBTQ+ people as possible.
Throughout the year I'll be helping to organise a variety of events with an emphasis on being casual and inclusive spaces where Corpuscles can meet and socialise with other LGBTQ+ individuals. If you're even slightly questioning about your identity, you're more than welcome to pop along to any of the events going on this year.
If you ever want to contact me you can reach me on Facebook, by grabbing me in person (I'm always around college) or through my pidge. In particular, if you want to keep up with all the latest news and events, message me and I can add you to the (secret) Corpus LGBT+ Facebook group.