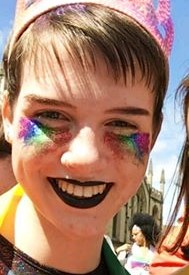 Hi! I'm Megan and I'm your LGBTQ+ rep for the year. The role is partly about entertainment – letting you know when and where all the LGBTQ+ Society events are on etc. – but I feel that it's mainly about getting the Corpus LGBTQ+ community together to look after your welfare.
Through the year I'll be organising plenty of non-alcoholic, low-pressure, community-centred events such as film nights and teas, working with the lovely welfare team to build a safe and inclusive space. People who are questioning their identities and those whose identities are often marginalised in the wider LGBTQ+ community are especially welcome. Also, I am a drinks rep for the Soc so there will always be a familiar face (mine) at LGBTQ+ drinks on a Tuesday.
I will try to send a few emails occasionally to reach out to the wider college audience but the best place to get updates from me is the Very Secret Facebook Page which you can ask to join for whatever reason. You can reach me via Facebook, email or my pidge with any questions, requests, etc.
Hopefully see you at drinks!